**Notice** – We are headquartered in Marin County, CA which gives us a great spot to provide excellent response times to bay areas and northern/central CA locations**

Diving Services in Sausalito, CA
Staffed by divers with decades of experience, Parker Diving Service Redwood Shore Diving, Inc. is the company to call for underwater and diving services. We're a commercial diving company that specializes in raising and removing sunken and stranded vessels throughout Sausalito, Marin City, Marin County, San Francisco, and the Bay Area, CA. Our capabilities also include pollution control, shoreside and nearshore clean up, oil transfer booming, underwater work and emergency vessel inspection, towing and disposal.
If Your Investment is Under Water, Call Us!
When you encounter a situation that requires the help of expert commercial divers, turn to Parker Diving Service Redwood Shore Diving, Inc. With more than five decades of proven experience behind us, we're ready to get in the water and get the job done.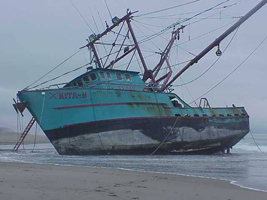 We specialize primarily in marine salvage in Marin County, locating, assessing and raising sunk or stranded vessels of all types. We can also inspect, repair and tow vessels to ensure they don't end up at the bottom of a body of water! Our team is available on short notice, 24 hours a day to help you get out of a tight situation. Whether you're hard aground or are taking on water and need emergency pumping, count on us to deliver knowledgeable solutions quickly.
Our commercial diving services aren't confined to servicing vessels. We also specialize in shoreside and nearshore pollution cleanup in Marin County. This also includes the remediation of oil spills and the ability to assess and address leaking hazardous wastes from damaged vessels. Our ability to act swiftly makes us an asset in maintaining the local ecology and minimizing the scope of damage and liability of an incident.
When it comes time to put your trust in commercial divers, Parker Diving Service Redwood Shore Diving, Inc. will make sure you're in good hands and that the situation is resolved safely and swiftly.
Our divers are extensively trained and highly experienced, capable of performing a wide variety of commercial diving services.
We've been locally-owned and -operated since 1969, giving us a strong familiarity of the local bodies of water.
Have an emergency that requires experienced divers to remedy? We're available 24 hours a day on short notice to assist you.
We're members of the American Salvage Association (ASA) and the Association of Diving Contractors International (ADCI).
We're highly mobile, with a service area that covers greater Northen and Central CA areas and the surrounding cities.
We're Ready to Dive In
If you have a need for commercial diving services, waste no time in contacting us. We're ready at a moment's notice, backed by the skills and experience to get your job done safely and quickly. Learn more about us today!
Proudly offering the best vessel recovery and pollution cleanup services to the following areas:
Sausalito, CA
Sacramento, CA
San Joaquin Delta, CA
San Francisco Bay, CA
Central CA
East Bay, CA
North Bay, CA
San Pablo Bay, CA
Eureka, CA
Big Sur, CA
Bodega Bay, CA
Monterey, CA
Northern CA
South Bay, CA
San Francisco Peninsula, CA
Sonoma County, CA
Half Moon Bay, CA
Fort Bragg, CA
Santa Cruz, CA
Northern CA Lakes
Mendocino County, CA
Crescent City, CA
Vallejo, CA